Search by Main Ingredient:
or Search by Type:
Caprese Salad (Insalata Caprese)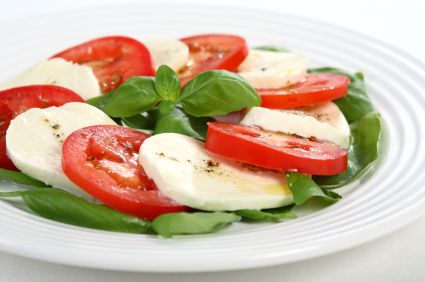 Caprese salad or otherwise known as Insalata Caprese, is a very simple yet elegant salad. It uses only fresh ingredients and even in its simplest form is quite delicious. Fresh tomatoes, fresh mozzarella, and fresh basil is drizzled with a little olive oil and sprinkled with salt and freshly ground pepper.
Ingredients:
6 slices of vine ripe or heirloom tomatoes, sliced 1/2" thick
6 slices of fresh mozzarella, sliced 1/4" thick (preferably buffalo mozzarella ball)
fresh basil leaves
olive oil, extra virgin
salt
freshly ground pepper
Directions:
Arrange on a plate, alternating the tomatoes and mozzarella and adding the basil leaves in between. I usually start with a slice of tomato first, followed by a slice of mozzarella and then a couple of basil leaves...then repeat.
Drizzle arrangement with olive oil. Salt and pepper as desired.
Serve immediately.
Comments:

- To decorate the tray even further, you can add black olives, kalamata olives or capers if desired.
- I like to use a white rectangular tray for this and lay the tomatoes in a single row, each tomato topped with a slice of mozzarella and a single large basil leaf or shredded leaves.
- Serve with a crusty type of sliced fresh bread such as French bread if desired.
- Be sure to use freshly ground pepper if possible.
Tips:
- If preparing ahead of time, add the olive oil and seasonings right before serving.
- Freeze the mozzarella ball for 1/2 hour before for easier slicing.
- If adding a balsamic vinegar, I highly recommend using the white balsamic vinegar because the dark vinegar in my opinion takes away the beauty of this simplistic dish. You can also use a white wine vinegar. However, the traditional caprese salad recipe excludes any vinegar.
>>><<<