Search by Main Ingredient:
or Search by Type:
Casseroles
Breakfast Casserole
Chicken Enchiladas
Chicken Tortilla Casserole
Classic Macaroni and Cheese
Green Bean and Blue Cheese Casserole
Mexican Lasagna
Spaghetti Pie
Southwest Chicken & Rice

Breakfast Casserole

Our family loves breakfast for dinner and this is the perfect recipe for it. This casserole is a make ahead recipe. So make it the night before and you have an easy breakfast or dinner meal. Add vegetables to the casserole and serve with...

Chicken Enchiladas

Everyone in our family loves these Chicken Enchiladas! On the inside, they are filled with shredded chicken, red enchilada sauce and green chilies. Then they are topped with creamy Monterey Jack cheese sauce. Very simple but delicious!

Chicken Tortilla Casserole

So easy and very tasty! The chicken can easily be replaced with cooked ground beef or ground turkey. This recipe is much easier than rolling them into enchiladas, but has the same great taste. Also, corn tortillas are healthier than the flour tortillas, but flour tortillas...

Classic Macaroni and Cheese

This is our family favorite of traditional mac and cheese. Very easy to prepare with cheesey goodness!

Green Bean and Blue Cheese Casserole

I found this recipe on About.com a few years ago. It is a very rich and decadent dish and if you like blue cheese, I think you will really appreciate this recipe.

Mexican Lasagna

This recipe is so easy and so good! It is also great for making ahead and reheating. I like to cut up the leftovers into squares, wrap up and freeze individually for lunches.

Southwest Chicken & Rice

This casserole has a southwestern flavor with chicken, rice, black beans, tomatoes, corn and finished off with cheddar cheese. Once your chicken and rice are cooked, you throw it all together with the other ingredients and top off with cheese.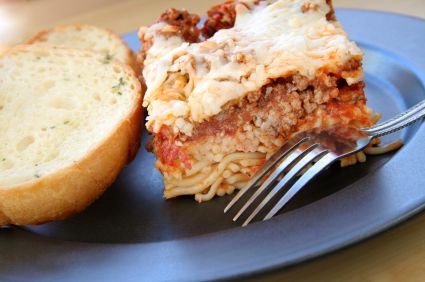 Spaghetti Pie

Before I go to the grocery store, I will ask my husband for some meal ideas for the week. This is his most requested dish. It has the flavor of lasagna with a twist of spaghetti.
>>><<<