Search by Main Ingredient:
or Search by Type:
Vegetables
Baked Potato Wedges
Coleslaw Like KFC
Garlic Green Beans
Green Bean and Blue Cheese Casserole
Honey Roasted Carrots
Parsleyed Red Potatoes
Pea Salad
Peas and Cheese Salad
Potato Soup
Roasted Asparagus w/ Balsamic Butter Sauce
Simply Baked Potatoes
Simply Roasted Asparagus
Simply Roasted Broccoli
Simply Roasted Green Beans
Sunshine Broccoli Salad
Sweet Potato Wedges
Zucchini and Tomatoes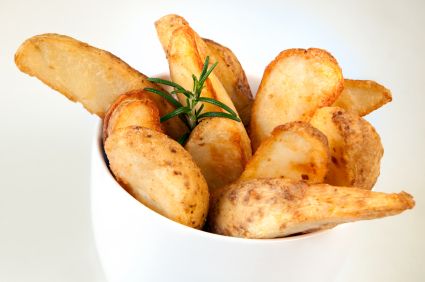 Baked Potato Wedges

Potatoes sliced into wedges, seasoned and roasted until a golden brown. This is a simple and basic recipe that can be spiced up any way you like it!

Coleslaw Like KFC

My favorite coleslaw is from Kentucky Fried Chicken. I love the combination of sweetness and tangy. This is a recipe that has circulated around the internet time and time again and is one of my favorite copy cat recipes.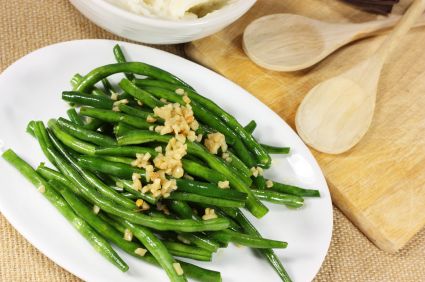 Garlic Green Beans

This is a very quick and easy recipe. Also, it is a great basic recipe to add whatever other ingredients you desire or have on hand.

Green Bean and Blue Cheese Casserole

I found this recipe on About.com a few years ago. It is a very rich and decadent dish and if you like blue cheese, I think you will really appreciate this recipe.

Honey Roasted Carrots

One way to get my kids to eat carrots is with this simple recipe. Something magical happens when you roast some vegetables such as carrots in the oven. They become much sweeter as you bake them, almost turning them into candy.

Parsleyed Red Potatoes

This is another recipe that was inspired by a trip to a local restaurant. The flavors seemed simple...fresh parsley, seasoned salt and maybe some pepper. You could taste the butter but it was not overpowered by it. The fresh parsley is what shined through.

Pea Salad

This is my mother-in-law's recipe that everyone in the family loves, including guests. It is layered with lettuce, sweet peas, onions, mayonnaise and topped off with bacon. Quite simple to make and best when prepared ahead of time.

Peas and Cheese Salad

My daughter Nikki and I had lunch one day at a local breakfast and lunch place (my favorite kind of restaurant) and they served this as a side with my sandwich. It is a very simple and quick recipe to make. Serve on top of individual iceberg lettuce leaves if desired and...

Potato Soup

This is a classic potato soup recipe that is very easy to prepare and very flavorful.

Roasted Asparagus w/ Balsamic Butter Sauce

I found this recipe on the internet years ago but don't remember the source. Now it is listed on so many sites because it is so good. It is a very easy recipe that our whole family enjoys.

Simply Baked Potatoes

We like to make a meal out of baked potatoes at our house. We will added reduced fat sour cream, and 2% milk fat cheddar cheese. In addition, we sprinkle chopped green onion and turkey bacon bits. It makes for a very easy meal.

Simply Roasted Asparagus

Another recipe from our simply recipes that is very good with just a few ingredients. The kids favorite way of eating asparagus is when I roast them in the oven.

Simply Roasted Broccoli

Again one of my favorite ways of cooking vegetables is to roast them on high heat in the oven, anywhere between 400 and 425 degrees. This recipe is no exception. Just a few ingredients and allowing the oven do all the work, will add great roasted...

Simply Roasted Green Beans

Very similar to the Simply Roasted Asparagus recipe above. Great recipe when you already have the oven on for your main entre.

Sunshine Broccoli Salad

This recipe has been around for many decades and sometimes you will see it at potlucks. There are many different variations, however, this is the basic recipe. Feel free to change it up any way you like it.

Sweet Potato Wedges

This recipe is very similar to our Baked Potato Wedges, except uses sweet potatoes. As soon as these come out of the oven, my kids can't keep their hands off of them. Simple base recipe that is great as is or add a some cinnamon and honey for an extra special treat.

Zucchini and Tomatoes

As far as chain restaurants, Carrabbas is one of our family's favorite restaurants. This is a recipe that was inspired by a trip to Carrabbas for dinner one evening. I had ordered the grilled chicken and this was served as a side dish. A couple of weeks later I tried to replicate...
>>><<<