Search by Main Ingredient:
or Search by Type:
Chicken/Poultry
Baked Chicken Taquitos
Balsamic Roasted Chicken
Barbecue Chicken Flatbread Pizza
Boiled (Simmered) Chicken
Chicken and Broccoli Skillet Pasta
Chicken Caesar Wraps
Chicken Cordon Bleu
Chicken Cutlets
Chicken Enchiladas
Chicken Fajita Kabobs
Chicken Marbella
Chicken Marsala
Chicken Noodle Soup
Chicken Picatta
Chicken Tetrazzini
Chicken with Tzatziki Sauce
Chicken with White Barbecue Sauce
Chicken Tortilla Casserole
Creamy Chicken and Rice
Crispy Baked Chicken Breasts
Curried Honey Mustard Chicken
Fajitas
Gorgonzola Penne with Chicken
Lemon Basil Chicken with Goat Cheese
Lemon Pepper Baked Chicken
Mexican Lasagna
Parmesan Chicken Tenders
Pesto Chicken w/ Tomatoes & Mozzarella
Rosemary Chicken and Potatoes
Sake Chicken
Shanghai Chicken
Simply Roast Chicken
Southwest Chicken & Rice
Thai Chicken Curry and Rice
Turkey Noodle Soup
White Chicken Chili

Baked Chicken Taquitos

These are tasty morsels and the kids like them because they are fun to eat. They are much healthier than the fried version. Great as lunch or a snack on the go. Great to make ahead and freeze.

Balsamic Roasted Chicken

Such an easy recipe that results in flavorful and tender chicken. The marinade creates a wonderful broth that I like to pour over the chicken as I serve it.

Recipe adapted from Let's Eat! in Sarasota, FL

Barbecue Chicken Flatbread Pizza

I was reluctant to make Barbecue Chicken Pizza like California Pizza Kitchen for a long time. Didn't think I would like the heaviness of barbecue sauce on my pizza. So I decided that I would lighten it up by...

Recipe Inspired by California Pizza Kitchen's BBQ Chicken Pizza

Boiled (Simmered) Chicken

I love to make boiled chicken on a Sunday and use it throughout the week. I'll store it in a glass jar in the fridge with the broth to keep it moist. There are endless recipes that include either...

Chicken and Broccoli Skillet Pasta

Chicken, broccoli and bowtie pasta in a light cream sauce. This is a complete meal prepared in a skillet. I like to serve this meal in bowls to contain the flavorful sauce. Serve with some fresh fruit to round out the meal.

Chicken Caesar Wraps

Very easy recipe that is great for lunch or a light dinner. Serve with fresh fruit and you have a complete meal.

Chicken Cordon Bleu

Chicken stuffed with ham and oozing with cheese. I just love the combination of flavors.
Chicken Cutlets

This is a very basic recipe. It can be used in many other recipes as you will see throughout my collection, such as Chicken Marsala and Chicken Picatta. If you top this off with a finishing sauce, it takes something so simple and makes it into a gourmet meal.

Chicken Enchiladas

Everyone in our family loves these Chicken Enchiladas! On the inside, they are filled with shredded chicken, red enchilada sauce and green chilies. Then they are topped with a creamy Monterey Jack cheese sauce. Very...

Chicken Fajita Kabobs

Very tender and tasty grilled chicken with bell peppers and onions.


Chicken Marbella

The combination of prunes, green olives, and capers will turn many heads away as it did me. However, this dish is excellent and is surprisingly well liked among everyone in our family including the kids. It is ...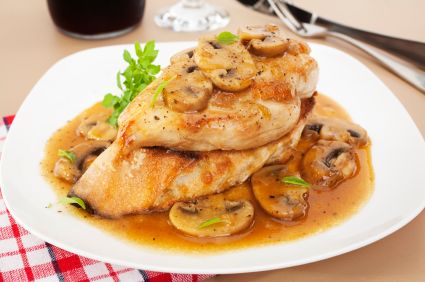 Chicken Marsala

Sauted chicken breasts served with a Marsala wine and mushroom sauce. Very easy to make and a great weeknight meal.

Chicken Noodle Soup

This recipe is homemade chicken noodle soup from scratch. I use a similar method when cooking homemade Turkey Soup from the leftover carcass of a turkey dinner.


Chicken Picatta

Chicken Picatta is a traditional Italian dish. It has a very light and fresh tasting wine sauce with capers. I love the combination of flavors. This recipe has just the right amount of lemon.

Chicken Tetrazzini

Chicken and spaghetti baked in a creamy cheese sauce. I like to add feta cheese in this recipe as it adds an additional creaminess to the dish.


Chicken with Tzatziki Sauce

This chicken recipe is very healthy and easy to make. Serve with warmed pita bread or flatbread, sliced fresh tomatoes, cucumbers, onions and you have a complete meal. We have also served them up in...

Chicken with White Barbecue Sauce

My friend Katy passed Southern Living's, Grilled Chicken Thighs with White Barbecue Sauce recipe to me. I have adapted this wonderful recipe for our family. It can be prepared the day before...

Chicken Tortilla Casserole

So easy and very tasty! The chicken can easily be replaced with cooked ground beef or ground turkey. This recipe is much easier than rolling them into enchiladas, but has the same great taste. Also, corn tortillas...

Creamy Chicken & Rice

Chicken is smothered with a creamy cheese sauce. Very easy to make. Serve with rice and steamed broccoli. Everyone in the family loves this meal.

Crispy Baked Chicken Breasts

I wanted to create a crispy baked chicken without all of the fat. This recipe is one that I came up with that yields tender chicken on the inside with a tasty crispy crust on the outside. So many variations using...

Curried Honey Mustard Chicken

This is a sweet and spicy recipe that is so easy! Marinate the night before and pop it in the oven. It is another one of those recipes that you may not think you will like, but will be surprised of how good it tastes.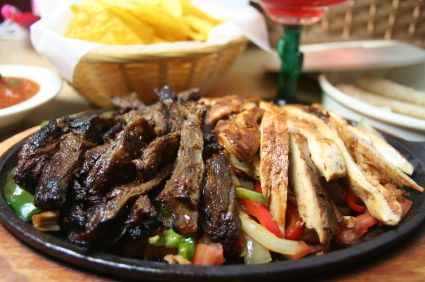 Fajitas

Fajitas are so simple to make. They are a great week night meal since you can marinate the day before and grill the next day. The marinade is a great all purpose marinade that does not need to be limited to fajitas.

Gorgonzola Penne with Chicken

It is like an Alfredo sauce with Gorgonzola cheese that is so tasty. A great weeknight meal. You can switch this recipe up with so many different variations. We usually eat this with fresh steamed asparagus. It tastes...

Lemon Basil Chicken with Goat Cheese

This recipe is my son's recipe that was inspired by a dish at Bonefish Grill named Lily's Chicken. This is a very healthy rendition of the recipe yet packed with great flavor. This is one of our favorite recipes loved...

Recipe Inspired by Bonefish Grill Lily's Chicken

Lemon Pepper Baked Chicken

This is my second favorite method of cooking a whole chicken...low and slow. This recipe reminds me of the Lemon Pepper Rotiserrie chicken that you get at the local grocery store. This cooking method yields...

Mexican Lasagna

This recipe is so easy and so good! It is also great for making ahead and reheating. I like to cut up the leftovers into squares, wrap up and freeze individually for lunches.

Parmesan Chicken Tenders

This recipe is sure to be enjoyed by everyone in the family. They are tasty and very easy to make.

Pesto Chicken w/ Tomatoes & Mozzarella

Sauted chicken breasts smeared with basil pesto, topped off with fresh tomatoes and mozzarella. Simple and a very flavorful meal.

Rosemary Chicken and Potatoes

This recipe is super easy to make and is great for a weeknight meal. It takes only minutes to prep and another 30 minutes or so to cook. The potatoes are loved by our entire family.

Sake Chicken

This is a very quick and simple recipe, yet quite delicious. It turns out very juicy and tender every time. Everyone in the family loves this chicken.

Shanghai Chicken

A whole baked chicken with Asian flair. The chicken is moist and infused with so much flavor.

Simply Roast Chicken

Sometimes just the simplest recipes can be very good... sometimes it is all about the technique. This recipe will explain how to roast a chicken with just a few simple ingredients. The chicken turns out to be a beautiful...

Southwest Chicken & Rice

This casserole has a southwestern flavor with chicken, rice, black beans, tomatoes, corn and finished off with cheddar cheese. Once your chicken and rice are cooked, you throw it all together with the other...

Recipe adapted from Let's Eat! in Sarasota, FL


Thai Chicken Curry and Rice

A flavorful, rich and creamy coconut sauce spiced with red curry. It doesn't need to be too spicy, so add as much curry as you desire. Serve over Jasmine rice and you have a complete meal.


Turkey Noodle Soup

Be sure not to throw away the carcass after preparing a turkey meal! Try this recipe once and it will be difficult for you to throw it out again without making this wonderful homemade soup.

White Chicken Chili

This recipe is so easy to make and quite tasty. It is also very healthy. I like to make this during the summer instead of the classic red chili.
>>><<<