Search by Main Ingredient:
or Search by Type:
Caprese Salad Skewers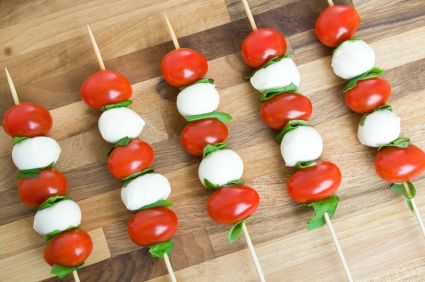 What better way than to put Caprese Salad on a stick? These are very attractive to serve for parties, so simple and delicious!
Ingredients:
18 grape or cherry tomatoes
12 fresh brocconcini mozzarella balls or 12 mozzarella cubes (3/4" cubes)
fresh basil leaves
olive oil, extra virgin
salt
freshly ground pepper
6 wooden skewers, 8" to 12" size
Directions:
Thread each skewer with the following ingredients in the order given: Tomato, basil leaf, mozzarella, basil leaf. Repeat one more time. Then add one last tomato.
Drizzle each skewer with olive oil. Lightly salt and pepper the skewers.
Serve.
Comments:

- I have simply used the mozzarella in the package such as Sargento and cut them into 3/4" cubes. The fresh mozzarella balls are better, however, they are still very good with the packaged cheese. Sometimes I have a difficult time finding the fresh mozzarella balls and can be quite a bit more expensive.
- You can be very creative with this recipe such as simply adding just one tomato, one basil leaf, and one mozzarella ball or cube to the very end of the stick. This will allow you to make a lot more skewers. Also, you can vary the size of the skewer or use party picks.
- To decorate the tray even further, add black olives, kalamata olives or capers if desired.
- Be sure to use freshly ground pepper if possible.
Tips:
- If preparing ahead of time, add the olive oil and seasonings right before serving.
- If adding a balsamic vinegar, I highly recommend using the white balsamic vinegar because the dark vinegar in my opinion takes away the beauty of this simplistic dish. You can also use a white wine vinegar. However, the traditional caprese salad recipe excludes any vinegar.
>>><<<