Search by Main Ingredient:
or Search by Type:
Cocktail Meatballs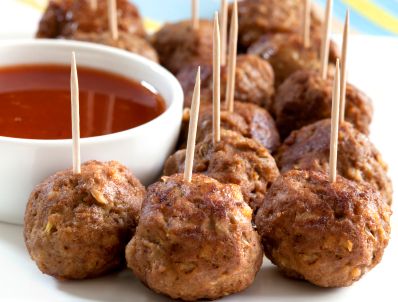 This recipe is so unbelievably easy, yet it is a crowd pleaser! It is a recipe that has been around for a long time and can be modified in so many ways to make it your own. This appetizer is usually one of the first one gone at family gatherings. Kids and adults both really like it.
Ingredients:
1 16 oz. pkg of frozen meatballs, or 1 pound of cooked homemade meatballs
1 12 oz. jar of chili sauce (such as Heinz Chili Sauce)
1 10 oz. jar of grape jelly
Directions:
In a large saucepan, heat and combine chili sauce and grape jelly, stir.
Add meatballs and combine with sauce.
Bring to a simmer, cover and cook for 30-45 minutes on low heat until meatballs are cooked through.
Slow Cooker/Crockpot Method:
In a Crockpot, combine chili sauce and grape jelly and stir.
Add meatballs and combine with sauce.
Cook on low for several hours.
Comments:

- Alternately, bake the meatballs as per the package directions. Place a toothpick in each one and serve the sauce on the side as the picture above shows.
- You can also make this with cranberry jelly or barbecue sauce. I have also used ketchup when I was in a pinch instead of the chili sauce. You can make an endless amount of variations on this recipe using the base ingredients.
Tips:
- When I Crockpot this, I usually throw it all in the Crockpot without stirring, cover and then about an hour or so later, stir it. It can't be more easier than that!
>>><<<