Search by Main Ingredient:
or Search by Type:
Fajitas (Chicken and/or Steak)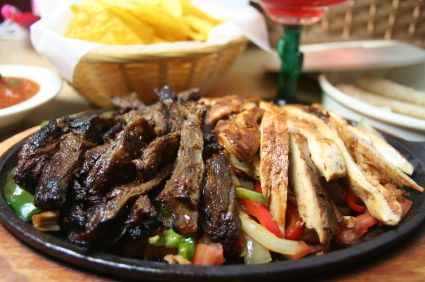 Fajitas are so simple to make. They are a great week night meal since you can marinate the day before and grill the next day. The marinade is a great all purpose marinade that does not need to be limited to fajitas.
Ingredients:
3 chicken breasts, boneless and skinless and/or
1 1/2 lbs skirt steak or flank steak
1 medium onion, halved and sliced thin
1/2 medium green bell pepper, seeded and sliced thin
1/2 medium red bell pepper, seeded and sliced thin
2 tbs olive oil or vegetable oil
flour tortilla shells

Marinade Ingredients for meat:

1/4 cup lime juice, freshly squeezed
2 tbs olive oil or vegetable oil
4 garlic cloves, crushed
2 tsp soy sauce
1 tsp salt
1/2 tsp liquid hickory smoke
1/2 tsp cayenne pepper
1/4 tsp black pepper, freshly ground


Directions:
Combine all marinade ingredients in large resealable plastic bag. Add chicken or steak. Marinate for at least 4 hours or overnight.
Grill chicken or steak, let rest for 5 minutes. Slice into thin strips and keep warm.
In a large sauté pan, heat olive oil on medium high heat.
Add peppers and onions and cook until they are tender.
Add meat to pan and toss with vegetables. Squeeze some fresh lime juice over the mixture in the pan.
Serve immediately.
Comments:

- Serve with flour tortillas, sour cream, cheddar cheese, guacamole, etc.
- I never had purchased skirt steak before until this recipe. Didn't even know it existed. It is perfect for fajitas and very tender. I am always able to find this where the steaks are. However, you may need to ask the butcher for assistance. If they don't have it, flank steak is also very good in this recipe.
Tips:
- Press down and roll the lime on your counter before you squeeze or juice it. This will soften the fruit and releases the juices easier.
>>><<<