Search by Main Ingredient:
or Search by Type:
Homemade Tortilla Chips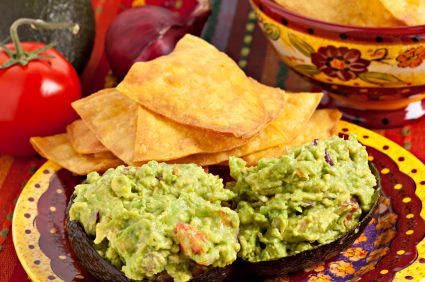 Once you taste these, it will be hard going back to bagged tortilla chips. They are very easy to make and your guests are usually very interested in how you did it.
Ingredients:
8 corn tortillas
canola, corn or vegetable oil
salt
Directions:
Stack the 8 corn tortillas on top of each other. Cut into 4 or 8 pie shaped pieces. You can also cut the tortillas in half once and then cut them into rectangular strips.
Add enough oil to frying pan to about 3/4 inch to 1 inch deep. Enough to completely cover the tortillas once they are placed in the pan. Heat oil on medium-high heat until good and hot. Should be about 350 to 360 degrees. If you place one of the tortilla pieces in the pan, it should sizzle. If not, continue to heat or turn it up just a little at a time.
Place some of the tortillas, single layer in the pan without overcrowding. This will have to be done in batches. Fry sliced tortillas on one side until golden (not brown), and then turn over and fry the other side until golden.
Using tongs, remove the tortilla chips and drain on paper towels.
While the tortillas are warm, season with salt to taste.
Comments:

- Oh yes, one time I accidently pulled out the flour tortillas instead of the corn. Let me tell you....it just doesn't work! Stick with the corn ones!
Tips:
- Use any other seasonings that you desire such as garlic salt, paprika, chili powder, chipotle seasoning or cayenne pepper to spice things up!
>>><<<