Search by Main Ingredient:
or Search by Type:
Spinach Dip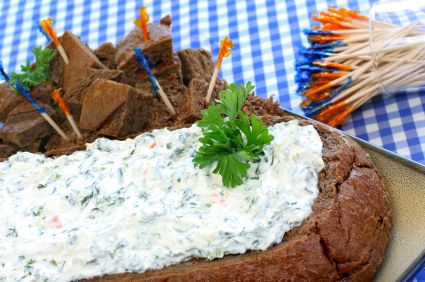 This is the classic Knorr's recipe on the back of their vegetable soup package. I am surprised how many people still ask me how to make it and don't know this great recipe. When we make this for get togethers, it is always gone way before the party is over!
Ingredients:
1 package (10 oz.) baby spinach, chopped or 1 package (10 oz.) frozen chopped spinach, thawed
1 container (16 oz.) sour cream
1 cup of Mayonnaise
1 package Knorr's® Vegetable recipe mix
1 can (8 oz.) water chestnuts, drained and chopped
3 green onions, chopped (use green and white parts)
Directions:
If using frozen spinach, be sure to drain the thawed chopped spinach well. Squeeze dry with your hands to remove the moisture.
Mix all ingredients in a bowl.
Cover and refrigerate for a couple of hours before serving.
Comments:

- I typically serve this with hollowed out pumpernickel or marble bread.
Tips:
- If using a round bread, cut the hole by using a bowl that is smaller than the bread, invert it on top of the bread, and cut around the bowl. This will give you a perfect circle every time!
>>><<<