Search by Main Ingredient:
or Search by Type:
Guacamole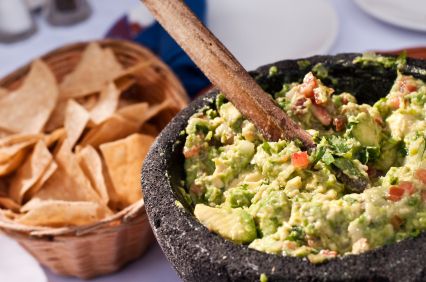 This was the first recipe that introduced my daughter Alyssa to the culinary world. She is the only one that is allowed to make this recipe in our house now! Serve with homemade tortillas chips...yum!
Ingredients:
1 large avocado, or 2 Haas avocados, diced
1 plum (Roma)

t

omato, diced small
1 Serrano chile, seeded, minced (optional)
2 tbs red onion, diced finely
1 tbs lemon or lime juice, freshly squeezed
1/2 tsp garlic powder
1/2 tsp kosher salt
1/2 tsp black pepper
3 drops hot pepper sauce
6 cilantro leaves, finely chopped
Directions:
Mix all ingredients in a bowl except for the diced avocado.
Gently fold in the avocado. This is so you can have it a little chunky. However, it you don't like it that way, just mix all of the ingredients together until your desired consistency.
Cover and refrigerate a couple of hours before serving.
Comments:

- We seem to prefer the lemon juice over the lime juice.
- We make this most of the time without the Serrano chile.
- We prefer the Haas avocados.
- Serve with tortilla chips. If you never made homemade tortilla chips, you should try our Homemade Tortilla Chips.
-
Tips:
- Press down and roll the lemon/lime on your counter before you squeeze or juice it. This will soften the fruit and releases the juices easier.
>>><<<